Waxing of ANY area of the body, bikini or face is our speciality, with Hollywood and Brazilian wax being our most popular and requested treatment in the salon. We are the original and most experienced waxing therapists in your local area. We use luxury vanilla creme warm wax which is less sticky and easier to remove than traditional honey wax, therefore it is less painful as it doesn't pull the skin (great for sensitive skin). We also use lavender or berry multi flex hot wax if preferred, after trying many different hot wax brands we have found this to be the best hot wax available. It is super pliable and therefore easier to remove meaning less pain for you! Please request when booking as hot wax takes longer (only suitable for small areas eg bikini or underarm). Soothing lavender and geranium after care lotion calms and cools your skin afterwards.
Please don't be embarrassed because we certainly aren't, if there are hairs you want rid of then WE ARE YOUR SALON - WE LOVE TO WAX!! Our highly skilled and experienced waxing therapists specialise in ten different styles of bikini wax! Many of our clients comment on how our vanilla creme warm wax and multi flex hot wax are less painful than other waxes they've had before and give the best, most thorough results.
All clients receive 10% discount when having two or more areas of body waxing within one appointment. STUDENTS get 15% off your first visit to us if you mention this offer when booking, you will then get 10% discount off all waxing services on every visit after that (UNDER 25's ONLY. Full time students with NUS CARD). All clients get 15% off your sixth treatment when you have a loyalty card. Please arrive five minutes early for your first waxing appointment to fill in a record card and please always arrive on time for every appointment after that or we might not be able to treat you, thankyou for your understanding.
NEW TO WAXING? - PLEASE GIVE US TWO TO THREE WEEKS HAIR GROWTH AFTER SHAVING, THANKYOU.
ALSO, Please avoid anything which involves heat or friction for up to 12 hours before and 12 hours after a wax to prevent skin rashes. Eg; hot water, sunbathing/sunbed, swimming/chlorine, sauna, jacuzzi, gym/running. Plus no body lotions, shower gels or fake tan on the area waxed.
Half legs lower (inc. feet & toes and knees)

Half legs upper (does not include bikini line, please ask to add it on with 10% discount)

20mins

20mins

£18

£18

Three Quarter Legs, or half legs + back of thighs
30mins
£22
Full Legs (inc. feet & toes) 
40mins
£26
Underarms
10mins
£10
Back of thighs/lower back or around nipples 
10mins
£8

Full stomach  

Tummy line

Full Buttocks

Half Buttocks

Full Buttocks + bottom crack 

Half Buttocks + bottom crack 

15mins

5mins

15mins

10mins

25mins

15mins

£12

£4

£12

£6

£18

£12

Forearms (inc. hands/fingers)
15mins
£14

Full arms (as above)

Female full back

Cleavage/nipples + stomach

Female Full Body Wax - includes full arms, full legs, underarms and hollywood. Please ask to add on stomach, back, cleavage and nipples or buttocks at an extra cost.

(FOR MALE WAXING PRICES SEE MEN'S TREATMENTS)

   10% discount on two or more areas of body waxing within one  appointment!

eg; Full leg and Brazilian wax would be- £45, Full leg/Hollywood wax- £46.80, Half leg/Brazilian wax- £37.80, Half leg/Hollywood wax- £39.60

Full leg standard bikini and underarms- £43.20. Half leg standard bikini/underarms- £36 etc

NEW OFFER; pay for five waxing treatments and receive your sixth TOTALLY FREE! (must be the same treatment eg five bikini waxes or five half leg waxes etc - Pre paid)

30mins

25mins

25mins

2hours

£20

£18

£18

£73.80

Bikini Wax Etiquette
We understand that sometimes if you are calling us from work to make your appointment for a bikini wax you might not want to say the words brazilian or hollywood wax so with this in mind we have now coded all of our bikini waxes so please refer to them by their code if you would prefer, eg brazilian wax is B5. Please arrive clean and fresh out of courtesy to us thankyou, we do however appreciate that if you are coming straight from work or Uni you won't have time for a shower so we provide intimate wipes for you to freshen up for your convenience. We also provide paper thongs for brazilian and hollywood etc waxing for your modesty, but dont worry, we will still do the most thorough of waxes in a slightly more discreet way. Most of our clients prefer this technique and often comment that they feel more comfortable than having to be completely naked down below. All of our intimate bikini waxes also include the bottom crack if required. We strive to make your waxing treatment with us the least painful, most thorough, quick and pleasant experience possible :-) Below are examples of some of our bikini waxes, other bikini waxes we do are variations of these. Please do tell us when you book if you want brazilian or hollywood rather than saying "bikini wax" so we can book out enough time, thankyou.
Frequently asked questions;
1. Can i have a bikini wax whilst i am on my period?
Yes! no need to cancel as long as you use a tampon and are clean.
2. Can i have a wax whilst pregnant?
Yes you certainly can although your skin may be slightly more sensitive.
3. Does your Brazilian wax remove all hair from the labia and bottom crack?
YES!! We do a truly authentic Brazilian wax which leaves just a one inch strip of hair on the pubic bone. You can then choose if you want it short (playboy wax) or thin (california wax). Or we can leave an inverted triangle shape which is our French wax, this can be large and full coverage or medium or small, it's totally up to you! Just tell us your preference when you come in.
4. Is there anything i can do at home to help prevent ingrown hairs?
Absolutely, and it is much cheaper and easier than you may think. We recommend using Sudocreme after a bikini wax for the next three days....It's a little bit of magic in a pot :-) It helps take down any redness super quickly and also helps prevent ingrown hairs due to its antiseptic qualities (we've tried it, it really works). We also recommend using exfoliating gloves with shower gel on the area one week after waxing every time you shower to gently exfoliate dead skin cells, this will help the hairs come through the skin easier. Sudocreme plus exfoliating gloves- only £5 when purchased in the salon. It's also a good idea to moisturise the area every day after you shower to prevent dry skin, a major cause of ingrown hairs. We recommend using "Gigi slow grow moisturiser" which helps to slow down your hair growth in between treatments - only £7.95.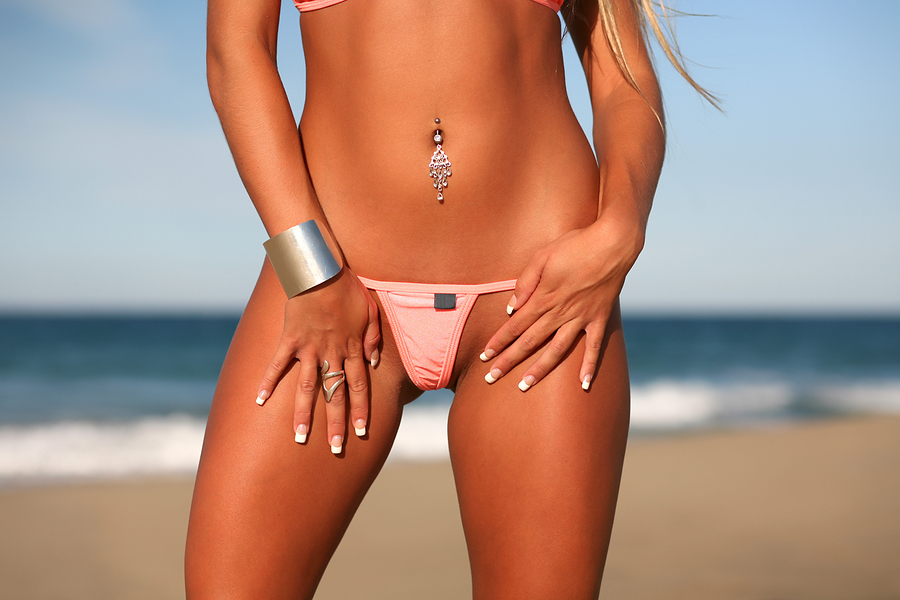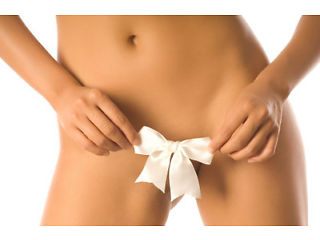 B1
Standard bikini line wax (knicker line)
10mins
£12
B2
Extended bikini line wax (inside knicker line and strip from top)
15mins
£16
B3
Thong/G-string bikini wax (narrow strip all the way down inc. stray bottom hairs/crack if required) - without bottom hairs - £18
20mins
£20
B4
French wax (triangle above, all off below)
25mins
£24
B5
Brazilian wax (1 inch strip, all off below)
25mins
£24

B6

B7

Playboy wax (short strip)

California wax (thin strip)

25mins

25mins

£24

£24

B8

B9

B10

Hollywood/Full bikini

Marbella wax (full buttocks)

Ibiza wax (full buttocks + bum crack)

For half buttock options see body waxing

30mins

10mins

20mins

£26

£12

£18

Ingrown hair treatment (microdermabrasion)
If you suffer from ingrown hairs on your bikini line then try our Crystal Clear ingrown hair treatment, also get advice on how to prevent them re occuring. Must be done either two weeks BEFORE or AFTER a wax to avoid discomfort.
up to 30mins
£20
Receive 10% discount on two or more body areas of waxing within one appointment

Using gentle vanilla creme warm wax for finer, softer regrowth.
Eyebrow shape (wax and tweeze for the perfect shape, less painful than threading) 
15mins
£8.50

Lip/chin/sides of face/front neck or forehead

10mins
£7.50

Lip and chin wax

15mins
£12.95
Lip, chin and sides of face
20mins
£16.95
Eyebrow shape and lip wax
15mins
£13.95
Eyebrow shape, lip and chin wax
20mins
£17.95

1. Full face wax (lip, chin, sides) and eyebrows

2. Full face wax + front neck and eyebrows

3. Full face wax + front neck, forehead and eyebrows

25mins

30mins

35mins

£22

£24

£26

Electrolysis Permanent Hair Removal (FREE CONSULTATION with first treatment)
Electrolysis is the original and only proven permanent hair removal treatment suitable for all hair and skin colours. We get fantastic results with electrolysis, please ask to read our testimonials. Electrolysis is great for smaller areas, eg: face, tummy and nipples but not suitable for larger areas eg: full beard, bikini/underarms or legs. It is suitable for thicker hairs (also known as terminal, see picture below) but not suitable for fine, downy hair (vellus), this type of hair is totally normal to have on the face and cannot be destroyed with electrolysis. We also do not recommend electrolysis on the eyebrows due to the skin being very delicate and bruising easily. If you want to remove any vellus hair or eyebrow hair then waxing is the best alternative. All procedures are carried out by Jodie Lilley (the owner) who has 26 years experience of doing electrolysis. For more information on electrolysis please see our blog page.
Pay for five treatments upfront and get your sixth free.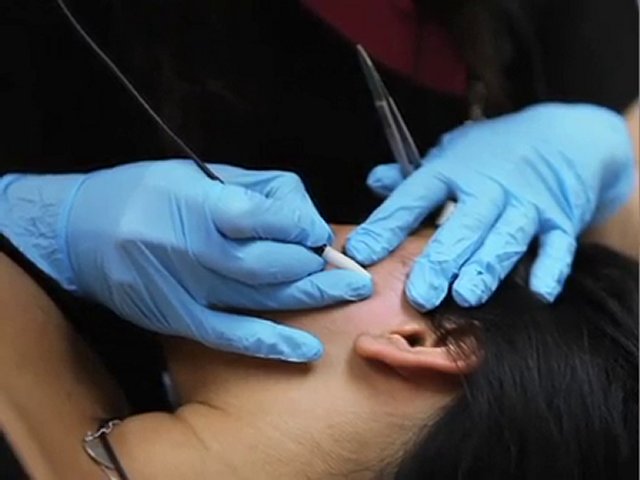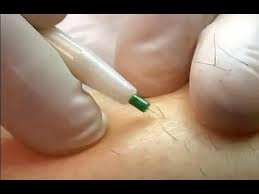 5 mins
£10
10 mins
£14
15 mins
£18
20 mins
£22
25 mins
£25

30 mins

Aloe Vera

aftercare £3.50

£28