All of our massages are carried out in warm, candle lit/peaceful treatment rooms to dreamy music by highly qualified and experienced therapists. In winter we have heated beds and oils for an added touch of client comfort. If you are coming for your first body treatment with us please arrive ten minutes early for you to fill in a consultation form and so you can start to wind down before your treatment. Please do always arrive on time to get the most from your massage or it may have to be shortened in consideration of the next client, and.....relax.
Please note, all of our massage timings include 5 mins to undress and dress again, thankyou.

Aromatic Decleor Body Massage - Indulgent aroma massage rituals

Each Decleor indulgent aroma massage ritual will take you on a sensory journey using powerful essential oils with wonderful aromas in the form of a rich balm. Your expert massage therapist will customize your exquisite massage just for you. Choose from four different balms each with its own beautiful aroma and purpose:
1. Aromessence relax balm - with essential oils of lavender, sandalwood and neroli to create a sensation of relaxation and harmony.
2. Aromessence flow balm - with essential oils of lemon, cypress and angelica to aid circulation and give a sensation of lightness.
3. Aromessence detox balm - with essential oils of rosemary, geranium and patchouli to help drain and eliminate toxins.
4. Aromessence tonic balm - with essential oils of rosewood, lemon grass and mint to help restore firmness and tone.
60 min full body - £48  75 min full body/scalp/face - £56  


Back Massage
Using natural elements 100% organic pre blended aroma oils. Choose from relaxing, energizing or muscle relief. We specialise in a combination of Shiatsu and Swedish massage techniques to deeply relax and reduce built up tension. All of our therapists can customize your massage just for you with either light, medium or firm pressure so you get your perfect massage.                 20min - £20

Back, Neck & Shoulder Massage
Using the above oils and techniques. Decleor aromatic balms £4 extra with any back or scalp massage.
30min - £26  40min- £32
Pregnancy Back Massage - (from 2nd trimester ie 13th week) All of our Pregnancy massages are now carried out on our special "comfy client" body cushion. 
We use high quality blended lavender or mandarin oils which are safe during pregnancy for this relaxing back and neck massage. 20min- £25
Pregnancy Body and Scalp Massage - (from 2nd trimester ie 13th week) includes the back, legs, arms, shoulders, neck and scalp using lavender or mandarin oils      60min- £45
Tranquility Scalp & Neck Massage
A specific massage with pressure points for the shoulders, neck and head to deeply relax, relieve tension and aid sleep. Most people prefer this to Indian head massage as you are lying down not sitting up.
20min - £20   30min (inc.face) - £26 
Indian Head Massage
This seated pressure point massage as traditional in India includes the back, shoulders, neck, head and face. It can be done with or without clothing. 30min - £26
Oriental Back, Neck & Scalp Massage
A deeply relaxing massage which includes the back, neck, shoulders and scalp to promote well being and aid relaxation/sleep. One of our most popular treatments.
40min - £32
Full Body Swedish Massage (relaxing, energizing or muscle relief oils)
60 mins Includes the back, legs, arms and shoulders/neck. 75 mins also includes the face & scalp. We will customize your massage with either light, medium or firm pressure just the way you like it for our wonderful full body massage.....and relax.
60min- £42  75min - £50 (inc face & scalp)  
HOT STONE MASSAGE
Massage using hot stones, one stroke of a stone is the equivalent of eight strokes of a hand. Stone therapy massage originated from healers using rocks and stones from the river beds which they warmed on hot coals or in hot water. By placing the hot stones on cloth, on the body and arranging them along the energy points (chakras) of the body, a healing process would occur.
The hot stones relax the muscles, drawing out muscular pain and discomfort connecting the flow of energy which helps rebalance the physical body, emotional state and spirit as one. Muscle tension will melt away as your therapist carries out a blissful massage using luxurious oils of your choice and heated stones.
30min back - £30  40min back - £38  75min full body - £56
LAVA SHELL MASSAGE 
Lava Shell massage is a type of heat treatment that uses smooth tiger striped clam shells as a massage tool. A patented, natural heat technology is incorporated into the Lava Shells which then emits heat for over one hour, allowing the therapist to provide an idyllic continuous warm massage with a deep pressure.  Heavenly!
30min back - £30  60min full body - £50
REFLEXOLOGY - 50 mins - £35
Remedial/Sports Massage by Simon Lilley Dip. F.T.S.T
Deep tissue techniques and advice specifically for sports related muscle problems carried out by our fully qualified male sports therapist to relax tense muscles, aid recovery and prevent further injury (only available on Saturdays). 
30min - £26  45min - £36  60min - £46  75min - £56

Hopi Ear Candles
A relaxing therapy used traditionally by the Hopi indians using high quality aromatherapy ear candles. This treatment is excellent for anyone who suffers from sinusitis, headaches, hayfever, glue ear or excessive wax and is a natural alternative to syringing. It is very relaxing and gives you a feeling of inner calm, it can also help you to sleep better. Includes a drainage pressure point massage to the ears and face.
40min- £25 (includes a pressure point massage)
  Pay for five massage treatments and receive your sixth FREE! (pre paid)


All of our slimming and toning treatments are designed to make you feel better within your own skin, we don't promise that they will turn you into a 'skinny minny' but we do promise that you will feel more toned, slimmer and confident when getting into your bikini/swimsuit or just to feel better in yourself. They are also fantastic boost treatments if you have come to a standstill in your healthy eating plan or to get you kick started on a new fitness regime. - SHRINKING VIOLET WRAP (FAT LOSS BODYWRAP) is our latest treatment addition.
G5 Vibratory Massage - Anti-Cellulite 30min - £25 A deep lymphatic drainage massage using the G5 vibratory machine with various attachments which will massage deeper than any human hands could ever do (excellent for reducing cellulite on the buttocks, hips and thighs). A course of twelve is recommended over six weeks then monthly maintenance. We stock Universal Contour firming lotion (anti cellulite and toning) which is recommended as perfect homecare in conjunction with G5 treatments - only £21.99 retail.
Pay for five G5 and get another one FREE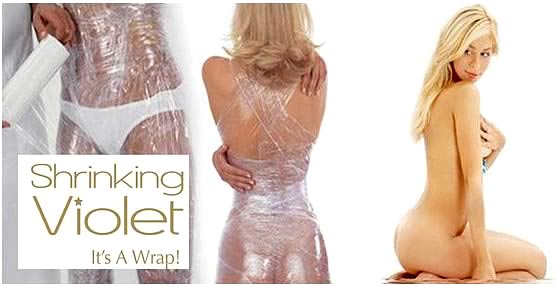 SHRINKING VIOLET WRAP (fat loss bodywrap)
Contouring/fat loss/inch loss
Some Clients Can Lose a Dress Size After Just One Treatment with Shrinking Violet Body Wrap! This amazing treatment helps to remove fat from the areas without effort or any discomfort to you.


One treatment £60 (2 hrs)
Three treatments £150 (saving £30)
Six treatments £300 (saving £60) 
If having a course of treatments we recommend one per week for three or six weeks, then maintenance once or twice per year to keep your fat and inch loss off.
Shrinking Violet Body Wrap works by Lipolysis – a proven method to reduce and remove unwanted fat from those unsightly, difficult to shift areas (like our tummy, bum, thighs, hips and upper arms). Shrinking Violet Body Wrap helps to remove fat from the areas without effort or any discomfort to you.
The amount of fat reduction will vary depending on your build and diet, however many clientele who have booked the course of Shrinking Violet Body Wrap have experienced at least a reduction of one dress size – some clients after a single treatment!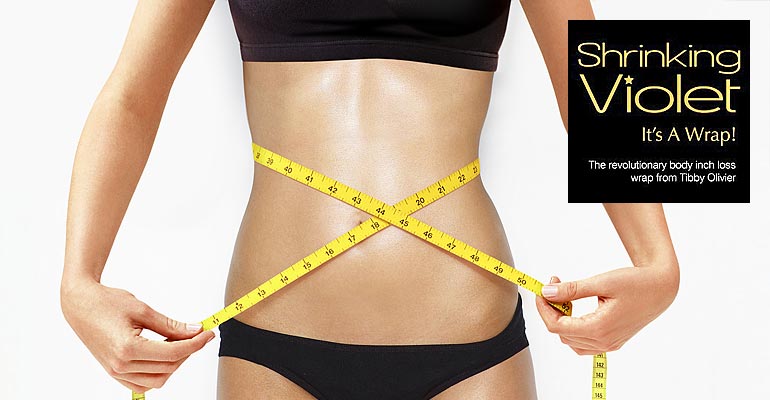 Benefits of Shrinking Violet Body Wrap:
Removes fat from difficult areas
Non-invasive Treatment
Pain-free
Can reduce by a dress size over a course of treatments
Some clients lose a dress size with one treatment!
Incredible! How does it work? FAQS;
Shrinking Violet Body Wrap is now available at Bodyworks Boutique Salon in Beeston, and is a painless, effortless process that can successfully remove fat in problem areas, such as thighs, buttocks and abdomen. Fat cells are broken down and excreted by the body.
How long will it take to see the results?
Shrinking Violet Body Wrap is a powerful beauty treatment that is so effective that following a 60 minute session, it can shrink your waistline by up to 2 inches!
Please note the amount of fat reduction varies per individual and depends on your build. However, many clients usually notice a reduction in a least one dress size after the first treatment. You will notice the results immediately, and after 24 hours, you will benefit the maximum effect.
Will results last?
The Shrinking Violet Body Wrap is a fantastic way to kick start a new and slimmer you! Remember for the fat to return, new cells have to form, and this would certainly happen if a person consumed excess calories. We recommend combining the Shrinking Violet Body Wrap with gentle exercise and healthy eating for maximum results.
Are there any side-effects?
You may notice a slight increase in urination for up to a couple of days following a Shrinking Violet Body Wrap treatment. This is normal as your body is breaking fat cells down.
How often can I have a treatment?
The Shrinking Violet Body Wrap Treatment can effectively combat problem fat areas every seven days. If you have any questions please ask a Bodyworks Boutique Salon Professional.
How many sessions will I need?
This depends on many factors and your therapist can advise you following a consultation. We have found that many clients require maintenance treatments once or twice a year after the initial course of 6 treatments. Once a desired level has been achieved, you need to ensure removed fat keeps off your body for good, and your body remains toned and firmed.
Please always arrive ten minutes early for your first bodywrap to fill in the detailed consultation form. We allow a certain amount of time to measure and wrap you so if you are late we might not have time to measure you sorry.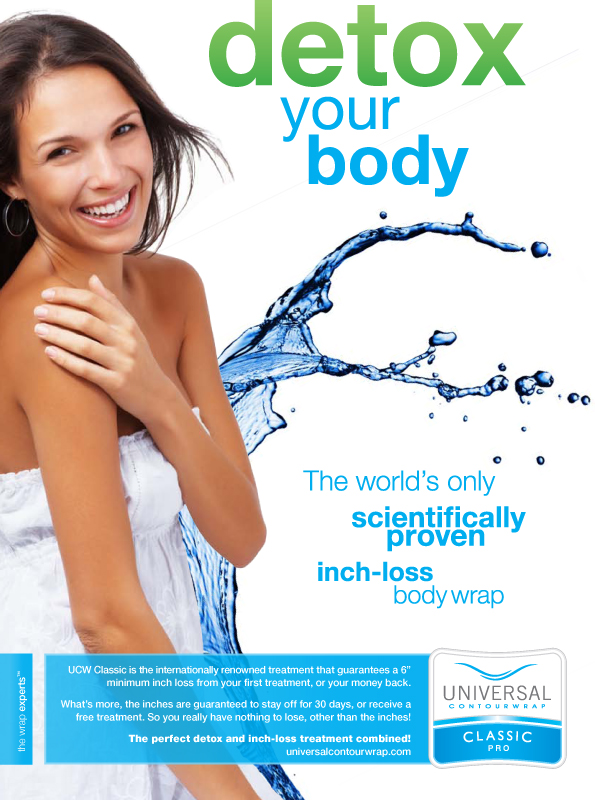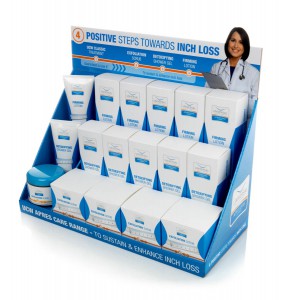 Cleansing and Purifying Back Treatment  40min - £36 
With a skin-brightening exfoliation to target spots, blemishes and dull skin. This facial like treatment for the back transforms congested skin, leaving it clear and strokebly soft. Excellent for oily/blemished backs. Includes double cleanse, exfoliate, steam and extraction, a clay mask and T tree aftercare. 
Full Body Exfoliation  
Ideal before or after your holiday or the day before a spray tan. A top to toe exfoliating/moisturising treatment using gorgeous smelling products which leave your skin feeling silky smooth.
30min - £26 (exfoliation and body lotion)  40 min - £36 (exfoliation plus a 10 min back massage) 90min - £62 (exfoliation plus a full body massage)