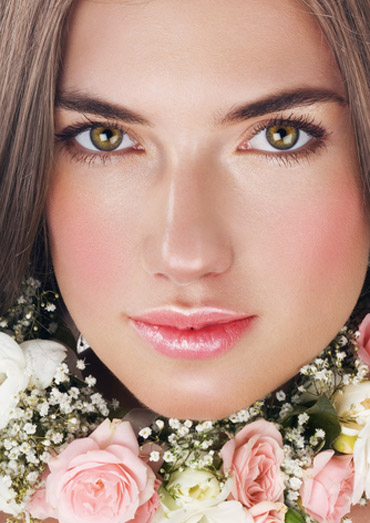 Make Up 
Using either Sothys (Paris) or Cozmetic Lab (Australia) makeup with beautiful colours and textures to create either a natural daytime or more glamorous evening look. We are now pleased to offer semi permanent makeup by Sonia Anderson who is an expert in this field. Please see her website; www.soniaanderson.co.uk.
Bridal Makeup - £70 inc. trial (see also wedding belle package) We only do bridal makeup at the salon, not home visits sorry.
We will help you create the perfect look for your very special day with our stunning makeup. Includes a 60 minute trial and 45 minutes on the day of your wedding. Please bring with you any pictures in magazines of makeup you really like to your wedding makeup trial so we have a good idea of the style you are going for. Most brides spend months or even years planning their wedding, and beauty treatments are very often a part of getting ready for one of the most important days of your life. At Bodyworks we have helped hundreds of brides plan for their special day with our wide range of expert beauty treatments. Why not phone us to book a free consultation for your wedding treatments on 0115 917 8887. We can individually tailor any different package of treatments especially for you! (see our discount rates on the beauty packages page)  
Cozmetic Lab Mineral Makeup
Cozmetic Lab mineral foundations are free from oils, fragrances, chemicals and synthetic ingredients. They leave your skin feeling healthy, non irritated and unclogged - perfect for sensitive and problem skins. Minerals assist with soothing inflamed skin and provide superior oil control as well as a sun block from harmfull UVA and UVB rays. Also within the range are stunning shimmery eyeshadows, blushers, bronzers and natural or bright lip colours for a sophisticated look.
| | | |
| --- | --- | --- |
| Evening or Occasion/Prom Makeup  | 45mins | £30 |
| Makeup Lesson - with our expert makeup artists | 60mins | £40 |
| | | |
Eye Treatments
Duration
Price
Eyebrow Shape (wax & tweeze for the perfect shape. Less painful than threading)
15mins
£8.50
Eyebrow Tint or Lighten (patch test required if you've never had a tint before)
10mins
£8
Eyelash Tint (same as above)
20mins
£14

Eyebrow Shape and Tint

Eyelash and Eyebrow Tint

Eyebrow Shape and Eyelash Tint

Eyebrow shape, Lash and Brow Tint - 40 mins - £24

Hi Brows- full definition eyebrows - 40 mins - £26 -Not available atm sorry

Hi Brow is a bespoke eyebrow treatment for the ultimate well groomed eyebrows, tailored individually to each client. It involves a combination of techniques including facial shape/eyebrow assessment, tinting with a unique Hi Brow long lasting tint, waxing, plucking, redness camouflage and special Hi Brow powder to give definition and fill in any gaps. We then 'set' the eyebrows with Hi Brow wax pencil to keep your new eyebrows in place for the rest of the day. It  is ideal for anyone with sparse eyebrows who is trying to grow them back into a better shape.

First Hi Brow treatment 40 mins - £26

Follow up treatments (within 3 weeks) 30 mins - £22

Hi Brow express - everything except tinting - 25 mins - £18

Hi Brow retail powder or soft eyebrow pencils are available for you to perfect your defined eyebrows at home in between treatments.

Hi Brow powder compacts - £29.95

Hi Brow eyebrow pencils - £12.50

LOLA Brows - not available at the moment

20mins

30mins

30 mins

£14

£18

£18

Brow Perfect -The revolutionary new eyebrow extension treatment by Lash Perfect. Individual eyebrow hairs are adhered to either the natural hairs or directly on to the skin to create volume and fill in gaps for the perfect brows. Fills in the gaps of sparse eyebrows giving 3D effect dimension.

15 mins - £15, 30 mins - £25, 45 mins - £40, 60 mins - £50.

(Not available at the moment)

Lash lift by 'Lash Perfect' for lift, volume and length (an equivalent to LVL lashes) - natural lash enhancement on your own eyelashes, a brilliant alternative to eyelash extensions. Longer/ fuller looking gently lifted lashes, ideal for straight lashes to make them look longer, fuller and darker- includes an anti ageing collagen eye patch treatment. Gives the same effect as using eyelash curlers but lasts for up to eight weeks! No need for mascara but you can still apply mascara for an even more glamorous look. Can also include a half price eyelash tint if required. 

45mins

60mins -

with eyelash tint

£38

£45

Hi Brow and LVL lashes (Lash Perfect lash lift) in a Package - 1 hr 45 mins - £65 (saving £6)

Glamorous Eyes Package - a combination of the Lash Perfect lash lift which includes eyelash tint, plus an eyebrow shape/tint. Perfect before holidays or a special occasion. 
90mins
£55

INDIVIDUAL LASH EXTENSIONS - by our Expert Lash Therapists. We offer three different  types of individual eyelash extension to suit everyones budget. We only use the best quality lashes by either Lash fx or Tatti Lashes (as worn by the Kardashians). We use regular or sensitive eyes lash glue. We patch test on your first of treatment in accordance with our training.

1. Express individual lashes - These lashes look lovely and natural, they are individually applied to the lash line in super quick time, only 30 - 45 mins. These are perfect for a holiday or special occasion if you don't want to keep your lashes on semi permanently (ie up to three months - see below).  They last approx two weeks after which they should be removed and a fresh set applied if required. Full set - £25 (30 mins), Glam set - £35 (45 mins - more applied). Removal - Up to 30 mins - £10   (or £5 with a new set)

SEMI PERMANENT EYELASH EXTENSIONS; Can last up to three months with regular infills; 

Choose from Russian Volume OR 1:1 Individual Lashes;

2.  Russian Volume Lashes (3d or 6d). These are the fullest lash extensions possible. Soft and fluttery full volume lashes which look stunning! Choose from a variety of lengths to suit you, we use a c curl lash which looks very pretty on the eyes. We recommend having your semi permanent Russian lashes infilled every two to three weeks to keep them looking full. Full Set - up to 1.5 hours- £60, Infills - 15 mins (one week ) - £15. 30 mins (two weeks) - £25. 45 mins (three weeks) - £30. Removal - Up to 30 mins - £10  (or £5 with a new set)

Now available - 10d Russian lashes, Our fullest mega volume lashes! up to 1.5 hours - £65, Infills - 15 mins (one week) - £17.50, 30 mins (two weeks) - £27.50, 45 mins (three weeks) - £32.50. Removal - Up to 30 mins - £10 (or £5 with a new set)





3. Individual 1:1 Lashes by Lash fx or Tatti Lashes. These classic premium soft mink lashes look beautiful. They are applied to your own lashes one at a time giving you longer, darker and very natural looking lash extensions and are virtually weightless. They do not look false or feel heavy like traditional false cluster lashes and can be infilled. Choose from short subtle, medium length or longer more dramatic, and from natural b curl or super glam d curl. These type of semi permanent  lashes should be infilled every two to three weeks to keep them looking full.

We always recommend having your false eyelashes removed in the salon so you do not cause any damage to your natural lashes.

One week infill 15 mins - £15

Full set - up to 1 hour 30 mins - £50.

Infills - 30 mins  (two weeks) - £22.50

45 mins (three weeks) - £27.50

Removal - Up to 30 mins -£10

(or £5 with a new set)






Ear Piercing

We use the Caress System 2000 gun method which is a medically superior ear piercing system recommended by Health Authorities. All piercings are carried out in our sterile luxury treatment rooms, not in a shop window. We are legally registered with Broxtowe Borough Council to pierce ears and have sterile pre packed stainless steel, gold or silver plated earrings in a choice of colours (silver or gold) or coloured gem stones. We always use a special pen to mark where the earrings will go and get you to check the position too so you are totally happy. Please note we do not pierce the upper cartilage due to safety reasons, only ear lobes. Please be wary of 'accessory shops' that offer this service, it is dangerous to pierce cartilage with a gun as it can shatter. If you do want the upper ear piercing it is best to go to a body piercer who will do it with a needle. 8 years and over ONLY (we do not pierce babies ears as their earlobes are usually too small. We no longer pierce childrens ears under 8 years old, young children might think they want their ears piercing but very often they change their mind when they get to the salon). If you are under 16 you will need your parents permission. We have twenty years experience of piercing ears.
| | |
| --- | --- |
| One Ear Lobe (inc. earring) | £12.50 |
| Both Ear Lobes (inc. earrings) | £17.50 |
| Sterilizing Aftercare Lotion | £2.50 |
Hopi Ear Candles
| | | |
| --- | --- | --- |
| A relaxing therapy used traditionally by the hopi indians using high quality aromatherapy ear candles. This treatment is excellent for anyone who suffers from sinusitis, headaches, hayfever, glue ear or excessive wax and is a natural alternative to syringing. It is very relaxing and gives you a feeling of inner calm, it can also help you to sleep better. Includes a drainage pressure point massage to the ears and face. | 45mins | £25 |