Decleor Facials

All Luxury Decleor facials use only the purest plant extracts and essential oils. Decleor facials are famous worldwide for their heavenly feel, aromas and simply stunning results.They are suitable for all skin types, even the most sensitive and most begin with a ten minute aromatic back massage for sheer relaxation. The use of expert massage techniques and 100% pure, preservative free essential oils address the demands of every single skin type to leave all complexions balanced, comforted and glowing with health. Please arrive ten minutes early for your first facial to fill in a consultation form and start to wind down before your treatment. Receive 20% discount when purchasing two or more Decleor products.
Ultimate Vitamin Facial (Aromaplastie) 65 min £56
All skin types (multi vitamin mask)
Award winning vitamin facial to leave your skin visibly radiant. Combines a rebalancing essential oil elixir plus multi vitamin aromaplastie mask for skin that's purified and replenished. Includes a 10 min back, 15 min face/neck/shoulder and 10 min scalp massage.
The Essentially Yours Aromatic Facial 70min £60
As above but also including a creamy mask for each individual skin type for a more intense treatment. Includes a 10 min back, 15 min face/neck/shoulder and 10 min scalp massage.
AURA ABSOLU GLOW FACIAL 45 min £42
A power boost facial to awaken the skin and senses!
For instantly refined and flawless skin, this power packed facial will awaken even the most tired complexions in the shortest of times. Exquisite massage techniques revitalise the mind, whilst the powerful infusion of essential oils including jasmine in the hydrogel mask leave the skin with an airbrushed luminosity as fresh as morning dew. Includes a 15 min face/neck/shoulder massage and a 10 min scalp massage (no back).
Decleor Specialised Facials

All of our specialised facials include a ten minute back massage, fifteen minute face/neck and shoulder massage plus a ten minute hand/arm or scalp massage using exquisite aroma balms and oils for sheer indulgence whilst the face mask is on. Expert masks give an intense facial treatment. All facials are carried out in peaceful, candle lit treatment rooms to dreamy music.
Aroma Expert Moisture Quench - Dehydrated Skin 60 min £52
Includes a hydra force mask to intensively hydrate with pure water and flower essences.
Aroma Expert Purify - Oily Skin. Intensely balancing and detoxifying for visible clarity. 60 min £52
Absorbs excess sebum leaving the skin feeling fresh and matt.
Can include steam and extractions if required, please see description below of what this includes.(15 min extra,+£10)
Aroma Expert Divine Nutrition - Dry Skin 60 min £52
Treats the driest of skins and relieves the uncomfortable
feeling of tautness. Restores moisture balance and suppleness.
Aroma Expert Soothe - Sensitive Skin 60 min £52
Soothes extremely sensitive and reactive skins. Desensitises and reinforces stressed, fragile and angry skins. Acts like a calming comfort blanket.
Aroma Expert Moisture Bright - Dull/pigmented skin 60 min £52
A brightening facial recommended for dull/pigmented skin to enhance radiance and reduce pigmentation using the new white petal products with advanced Vitamin C technology.
Aroma Expert Lift - Youth boosting anti wrinkle treatment. 60 min £54
Offers a threefold effect acting on skin tone, tissue renewal, and has a 'lifting' effect. Hyaluronic acid and powerful youth boosting ingredients combined with a potent aroma lisse mask packed with anti oxidants and galangal extracts lift, plump and firm for a luminous, younger looking complexion.
Vital Eyes - Puffiness/Fine Lines/Dark Circles 45 min £42
Anti-ageing and visibly plumping for a smoother eye zone, put the sparkle back!
A specific treatment for the delicate eye area, first we cleanse and exfoliate the whole face then a specific pressure point eye massage is performed. This targeted treatment fights fatigue, quenches moisture loss and helps erase wrinkles for a sparkling, rested eye zone. Includes a 10 min eye massage and 10 min scalp massage (no back)
Vital Eyes with any facial - Only £16 extra
Aroma Vital Expert Lift - Mature Skin/Eyes 80 min £70
A combination of the expert lift facial and vital eyes treatment for the ultimate in Decleor anti ageing skincare!
DECLEOR FACIAL OFFERS
Pay for five Decleor facials and get your sixth FREE!! (pre paid)
Buy two or more Decleor products and receive 20% discount
Pay for four Decleor skincare products (to include an aromessence + moisturiser) and receive a FREE 45 min full prescription facial with scalp massage worth £42!
Other Specific Facials - Decleor or Crystal Clear Products

Mini Prescription Facial - All skin types 30 min £26
Double cleanse, exfoliate, mask and moisturise (no massage)
Full Prescription Facial - All skin types 45 min £36
Double cleanse, exfoliate, face/neck and shoulder massage, mask and moisturise.
With scalp massage 45min £42
With back massage 55min £46
With back & scalp massage 55 min £52
Steam & Extraction Facial - Blocked pores 45min £36 or 1 hr £46 with face/neck massage
A deep cleansing and refreshing facial suitable for clients with large visible blackheads, pustules (spots) and milia. Includes steam and extraction of blackheads, spots and milia (whiteheads)
Please see description below of what steam and extraction involves. This facial is not suitable for dry or sensitive skin.
Finishing Touches

Why not add on one or more of the following treatments to any of our facials to suit your individual needs:
1. Steam & manual extractions with tissues wrapped around our fingers to remove blackheads or pustules (spots). For milia (whiteheads) extraction we use a special sterilised needle to pierce and remove, this does not hurt and is totally sterile. This treatment is only recommended for clients with large visible blackheads, pustules and milia. (not suitable for dry or sensitive skin). 15 min £10 extra
2. A Shiatsu pressure point eye massage and soothing eye mask (Vital eyes) 15 min £16 extra
3. A relaxing scalp massage whilst the mask is working wonders. 10 min £6 extra
Crystal Clear Microdermabrasion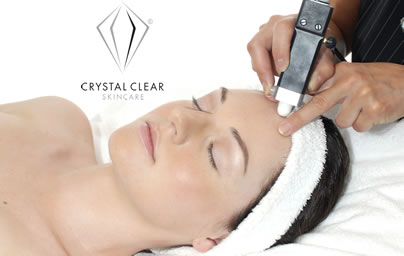 "The celebrities favourite treatment"
This treatment using the Crystal Clear machine is recommended for the correction of the following skin problems
Fine lines/wrinkles, pigmentation/sun damage, acne prone/acne scarring, blackheads/open pores, dull dehydrated skin, ingrown hairs/pimply arms/stretchmarks. Excellent results can be achieved with this treatment especially if used in conjunction with the homecare products by Crystal Clear.
We use a controlled method of skin resurfacing by gently exfoliating the outer layers of skin while increasing new collagen and elastin formation with the "lift" technique to visibly rejuvenate. Results are visible immediately, however a course of twelve may be recommended every two weeks then monthly maintenance to sustain a healthy glowing skin. We recommend you also use the products for optimum results.
Preparation MDA - Flash Facial (no mask) 25 mins- £30
Deluxe MDA (includes 15 minute soothing "lift" mask) 45 mins- £45
Deluxe MDA plus bright eyes anti ageing eye mask 60mins - £55
Luxury MDA (includes "lift" mask and shoulder/neck/scalp massage) 60 mins- £55
Bright Eyes (includes special eye mask and scalp massage) 30 mins- £35
Body Correction (ingrown hairs/pimply arms/stretch marks) from 20 mins- £20 - £35
Special offer: Receive a FREE Preparation MDA flash facial!! (worth £30) when you buy 3 homecare products to include soothing cleansing gel, brightening complex and skin repair moisturiser - £92 (saving £30!!)
A course of 6 treatments is recommended over 12 weeks. Pay for 5 and get 1 FREE! (pre paid) - £150 for six x 25 mins, £225 for six x 45 mins or £275 for six x 60 mins.
A wide range of Crystal Clear skincare products are available in salon which are recommended in conjunction with the treatments. Excellent results can be achieved when using the products at home for a healthy/glowing complexion. Receive 20% discount when purchasing two or more Crystal Clear products.
Novita Face Peels

Novita face peels will help to restore a younger/fresher appearance and help improve skin problems. We use different peels for various skin types. Please note these peels are not medical grade therefore you do not need time off work afterwards. Pay for 4 Crystal Clear skincare products which will enhance the results of peels or microdermabrasion and get your first treatment of either free!
Lactic Peel - Finer/more mature skin types - £40
Lactic acid is a more hydrating and nourishing approach to peeling. Good for those with fine skin and medium lines/wrinkles.
Glycolic Peel - Thick/clogged/pigmented skin types - £40
Glycolic peel is a treatment designed to improve thicker skin types, blocked pores and sun damage on face and decolletage.


Defining Aesthetic Clinics

Our experienced state registered doctor specifically trained in medical cosmetic procedures can offset the signs of ageing such as lines, wrinkles, dark circles and lip volume loss with wrinkle reducing injections (Botox/Dermal Fillers).Dr Bindy is also a head and neck surgeon at Derby hospital and has years of experience. He specialises in giving you an extremely natural (not fake look) to enhance your beauty and take years off your face. Our prices are very competitive for the quality of treatment you will receive ; One area of botox-£130, Two areas-£200, Three areas-£250. Dermal fillers; Half a syringe-£150, Full syringe-£250, Lips, 1 mil -£270, half a mil - £170. Tear troughs (dark circles/bags) - £300. Please call the salon or e mail us to make an appointment. Our next clinic is on Thursday 13th September 2018 www.definingaesthetics.com